"Heroes never die"
The most important thing about Min Ko Naing is his morals and courage. I have always admired his courage. When we were very young, Min Ko Naing's parents did not like him to hang out with me. They worried that I would "destroy" him. My parents thought the same thing of him. So we could not meet in front of our parents. But we always managed to meet each other.
We had our own signal. Min Ko Naing would make a cross with charcoal at an electricity pole, which is sitting in front of his house. That meant he was not at home. If he was there, he would just make a check mark. Then I knew he was there, and I would wait nearby. When he saw me, he would come out and we would meet. We used this signal until the 1988 democracy uprisings.
Our parents should have been worried. When we were young, I showed him how to smoke, and in return, he taught me how to swim. As we got older, we began to read more books and learn more about politics. Later we started having serious and critical discussions on the political situation and that made our parents really worry. Once my father angrily said, "Do you think our house is a rebel headquarters?" At that time, we were holding informal meetings and discussions on politics.
Now my friend is serving a 20 year sentence in prison, and I have also given a death sentence in absentia. Min Ko Naing does not work for himself, but for the people, which is why he is a real hero. I think of my friend more and more whenever I see those who are power hungry and cowards holding titles and are in high positions. But I'm sure that his spirit is still strong, and he will continue to stand up against the military dictatorship in Burma. But I'm worried about his health condition. But heroes never die.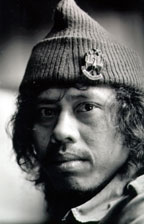 By Moe Thee Zun, Deputy Chairman of the All Burma Students' Democratic Front [ABSDF]. Moe Thee Zun fled to the border in 1989 and joined the "Students Army."