Min Ko Naing, Student Fighter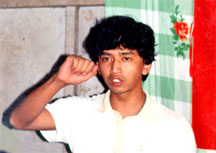 His name is Paw Oo Htun. He was born on October 18, 1962. He is the third and only son of U Thet Nyunt and Daw Hla Kyi. He is a kind and softhearted person. He always tried to help others who were in need. He always spent his pocket money on poor children.
In 1988, he was a 3" year zoology student in Rangoon University. Involved in the March 16th Red Bridge affair at the edge of Inya Lake, located just beside Rangoon University, he was one of the students who was beaten by the riot police. Even though he escaped from that bloody scenario, he never forgot the day when the water of Inya turned red.
He started a secret anti-government movement together with his closest friends, Moe Thee Zun, Thurein, and Maung Maung Kyaw. He renamed himself "Min Ko Naing" which means "Conqueror of Kings" in Burmese. His group started to issue anti-government statements under the name of "All Burma Federation of Student Unions," signed by Min Ko Naing. The All Burma Federation of Student Unions, or ABFSU, is a historical student organization established in1936, forced to go underground in 1962 when General Ne Win took over power.
At that time, the main activities of Min Ko Naing were to organize the people of Burma to topple General Ne Win's government and to re-establish ABFSU.
He achieved his aims. On August 8th, 1988 -- the eighth day of the eighth month -- the people's 8/8/88 uprising began. The ABFSU was refounded on August 28, 1988 during a student conference held in the same location as the former Student Union building, which had been blown up by General Ne Win in 1962. Min Ko Naing was unanimously elected Chairman.
During the days and weeks of the 8888 people's uprising, many people were killed by government forces. Consequently, General Ne Win resigned from the Burmese Socialist Program Party (BSPP) and his own government. Two other hastily-chosen presidents also stepped down. But the BSPP party government was replaced by a military regime on September 18th, 1988. In response to nation-wide public protest, the military regime announced that it would hold a multi-party general election. But unwilling to trust a brutal military regime, Min Ko Naing and the students continued to fight. Their demand was for an interim government with our national leaders, including Aung San Suu Kyi, U Nu, and U Tin Oo.
On March 23. 1989, Min Ko Naing was arrested by Military Intelligence. He was brutally tortured by his interrogators, then detained in the notorious Insein Prison under the section 10(a) of State Protection Act. He was not granted family visits during his incarceration.
On December 17, 1991, he was sentenced to fifteen years imprisonment with hard labor. Unfairly, his prison term started from the date of sentence instead of the date of arrest. In 1992, according to State Pardon 11/92 issued by Senior General Than Shwe, his imprisonment was reduced to 10 years.
In May 1998, he was transferred to Sittwe Prison, located in western Burma, 700 km away from Rangoon. His family can visit him only once every three months due to the long and difficult journey and the high cost of travel.
In January 2000, prison authorities informed Min Ko Naing's family that his prison term was near completion and he would be released the following month. In February, his family traveled with inexpressible happiness to Sittwe Prison to pick up their son and bring him home. However, on their arrival, they were informed by the prison authorities that though Min Ko Naing's prison term was over, he was now being detained under Section 10(a) of the State Protection Act as instructed by Military Intelligence. The family was not allowed to visit him at that time, and they were informed that all family visits would subsequently be denied.
Min Ko Naing's health has deteriorated. He has been denied the rights of a human being since 1989, and this denial is ongoing. But we believe Min Ko Naing's spirit is getting stronger and stronger. His great dignity and strength inspire us more and more. We honour him as a great symbol of democracy and the embodiment of the student fighter. That the world has begun to honour him as well is a great encouragement to us. We are convinced that he will fly again in the clear sky one fine day.